How to Read PDF on iPad, iPhone, and iPod?
PDF is now Web's most popular format, which can be used for everything, such as business documents, digital magazines, and personal files. We usually enjoy reading eBooks on iPad and consider it as fantastic experiences: graphics and text look good on the large iPad screen. Here we provides two methods to read PDF on iPad, iPhone, and iPod:
* Read PDF with Apple's native e-book reader - iBook. (Detailed guide on reading PDF on iBooks)
* Read PDF on iPhone, iPad, and iPod as EPUB eBooks - PDF to EPUB Conversion
I. Read PDF on iPad, iPhone, and iPod with iBook
As Apple's native e-book reader, iBook is now able to include PDFs alongside e-books. Here is a brief tutorial to show you how to add PDF files to iBooks so that you can read them on your iPad, iPod Touch or iPhone.
Step 1. Open up iTunes. Select File > Add to Library….
Step 2. Find the PDF file that you would like to add to iBooks. You can select multiple PDFs or entire folders. Click the "Choose" tab once you make your selection.
Step 3. Select "Books" from your iTunes Library. You should see the PDF file(s) that you just added, now listed. Then right-click (or press "Ctrl" and click) the PDF file and select Get "Info" from the presented menu.
Step 4. Select the "Options" tab. Make sure that the "Media Kind" is set to "Book". Then navigate to the Info section of the menu. Enter any additional information about the PDF here. Titles, authors, dates and comments can be kept in this section. Click "OK" when done.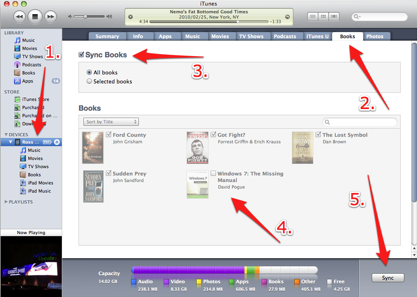 Step 5. Select your iPad, iPhone or iPod touch under the "Devices" section in iTunes. Click on the "Books" tab near the top of the screen. Check the "Sync Books" box and choose the "All books" or "Selected books" option. Then Click "Sync" at the bottom of the iTunes interface.
II. Read PDF on iPhone, iPad, and iPod as EPUB eBooks - PDF to EPUB Conversion
It's really frustrating to read PDF files with an iPhone. Not only because the screen is too small but really because the PDF format doesn't offer the needed functionalities for this type of device (no zoom, fixed page width, etc.). It' why we need to convert PDFs to EPUB eBooks.
PDFMate PDF Converter Professional is such a PDF to EPUB converter tool, which has outstanding ability of converting PDF to eBooks for reading PDF in iPhone, iPad, iPod, etc. It is just like watching DVD or videos on iPad, iPhone, iPad, what you need is a DVD Video to iPad iPhone Converter.
This PDF Converter Pro is easy to use with a simple and clear interface. It supports converting PDFs in batches, and then loading to iPad, iPod, and iPhone.
Step 1. Preparation: Download PDF Converter Professional, then install and run it.
Step 2. Load PDFs: Click "Add PDF" to load files for conversion.
Step 3. Choose output format: On the pane of Output File Format, choose "EPUB" as the output format.

Step 4. Start conversion: Click "Convert", then the conversion will be finished within seconds.
After that, you can open the output folder and manage the PDF EPUB files,a and load them on your Apple devices for enjoyment on the go.
Related Articles:
How to Read PDF on Android Phones & Tablets?
How to Read PDF on Sony Reader as EPUB eBooks?