The Best eBook Format for Kindle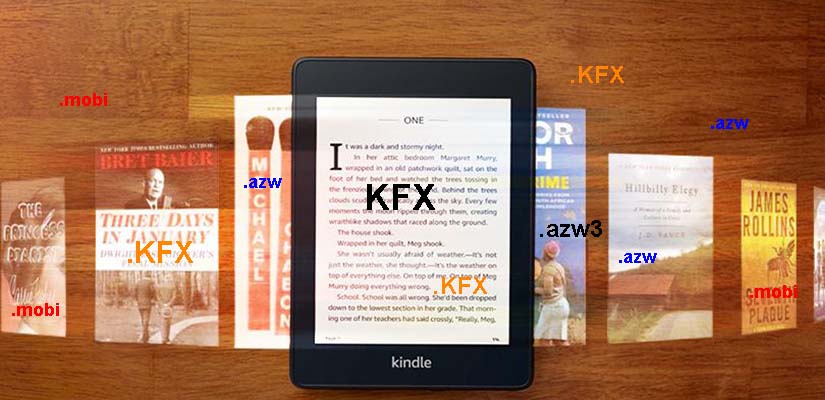 Best eBook Format
•
Kindle
EPUB, PDF, Mobi, AZW, AZW3, and KFX eBook formats are the most popular and often used formats to save eBooks. All kinds of eReaders and mobile devices support TXT and PDF format for e-reading, all eReaders, and mobile devices supports EPUB format except Kindle, and Kindle support all of those kinds of eBook formats except EPUB.
Since Kindle supports to read eBooks saved as PDF, Mobi, KFX, AZW, and AZW3 formats, you must be confused about which one could be the best eBook format for Kindle. Hereby, we will introduce those eBook formats to you to find the answer to which one is the best for Kindle. Also, we would like to introduce a way to you to convert EPUB format eBook to Kindle supported eBook formats that enables you to read EPUB eBooks on your Kindle.
EPUB vs. PDF vs. MOBI
The Difference between MOBI and AZW3
Kindle supported eBook formats –PDF, Mobi, AZW, AZW3, and KFX.
PDF
PDF (Portable Document Format), developed in the 1990s, has a very long history, and it is a member of the eBook formats family. However, PDF isn't technically a true eBook format since it is not reflowable.
PDF has nearly universal compatibility: operating systems, applications, and even Internet browsers everywhere can open PDF files since it is an industry-standard. As we all know, PDF works fine on PCs with larger screens and the perfect format for printing. However, PDF doesn't usually work well on smaller screens, such as Kindle eReaders, with such a fixed layout and can only be displayed as a zoomed-out page. (The screen size of Kindle eReaders is between 6 and 7 inches.) The viewing experience of reading eBooks in PDF format on Kindle eReaders could be quite weak.
Due to the limitation of the PDF format, it is not a good option for Kindle users to read eBooks on Kindle eReaders. We would like to suggest you use PDF formats for printing eBooks.
Mobi
Mobi eBook format is developed by Mobipocket.com and acquired by Amazon in 2005 to publish and sell Kindle eBooks. Mobi eBook format is the format based on the standard Mobi7. The most significant advantage of Mobi format is the eBooks cost less storage room for saving an eBook. However, with the Mobi format eBooks that based on Mobi7 standard, you are unable to change font, size, and layout within Kindle.
Mobi eBook format is an excellent choice for Kindle devices have a small storage room. With the eBooks saved as Mobi format, you can store more eBooks in your Kindle within the limited storage room compare to eBooks saved in other eBook formats.
AZW
AZW eBook format, basically as same as Mobi eBook format. It is an eBook format used by Amazon to publish Kindle eBooks with DRM (Digital Right Management). Both Mobi and AZW eBook formats are frustrate important for Amazon to expand their business in this market. Meanwhile, AZW eBook format has the same pros and cons as Mobi eBook format.
Thus, you could have the same conclusion that AZW eBook format is a format for Kindle devices that have a small storage room.
AZW3
AZW3 eBook format is a new format developed by Amazon based on the KF8 standard, which also can be called Mobi8 or Kindle Format 8 standard. The main development of this eBook format is it fixes the issue of Mobi eBook format does not support complex eBook layout by supporting HTML5 language (HTML5 video and audio tags not included) and CSS3 language. The viewing experience of reading AZW3 format eBooks on Kindles is much better, as similar to the viewing experience of reading EPUB format eBooks, even better at some points.
On the other hand, the AZW3 eBook format also has some new features for Kindle users, such as supporting display tablets, bold font, the content displayed in vertical, customize fonts, etc. With such significant improvement, most of the Kindle eBooks are published in AZW3 formats.
In conclusion, Mobi is the same as the AZW eBook format; both of them are based on the Mobi7 (KF7) standard. AZW3 is the eBook format save eBooks based on the Mobi8 (KF8) standard. With the comparing of these three formats, AZW3 is the best eBook format for Kindle eReaders. However, there is another Kindle eBook format that is KFX, published in 2005 at the same time as Kindle PaperWhite 3.
KFX
KFX eBook format can be interpreted as Kindle Format X (KF10). Amazon gave it a new name for this new eBook format, and in the meantime, there is only one previous launched Kindle device support this format – Kindle Paperwhite 2. Besides, the KFX eBook format no longer developed based on the Mobi standard; of course, it is not compatible with Mobi format anymore.
This genuinely new eBook format comes out with some new features to improve the viewing experience of reading eBooks on Kindle devices, which also enhance the competitiveness of Kindle in the market. The KFX eBook format has new features like smart line breaking, quick page-turning, support high definition pictures, and support more languages. Meanwhile, the KFX supported HTML and CSS languages, tags, and layout had an optimization for better user experience compared to KF8.
Which one is the best?
In conclusion, the answer to which one of the Kindle eBook formats is the best is the KFX eBook format. It is the most recent developed eBook format for Kindle eReaders, which has involved the strength of Mobi and AZW3 eBook formats. Meanwhile, it has some new features for a better reading experience. Thus, if you have a Kindle eReader support KFX eBook format, which is the best one for you. If your Kindle device an earlier version one, then you can choose AZW3 format, which has a better viewing experience compares to Mobi and AZW.
---
How to Read EPUB Format eBooks on Kindle?
Amazon.com: 'Content Formats Supported - Kindle Format 8 (AZW3), Kindle (AZW), TXT, PDF, unprotected MOBI, PRC natively; HTML DOC, DOCX, JPEG, GIF, PNG, PMP through conversion; Audible audio format (AAX).'
As we can find that the Kindle does not support to read EPUB format contents. However, EPUB is one of the most popular eBook formats, and there a large number of eBooks save in EPUB format on the internet. It is a disadvantage of Kindle eReaders. Thus, how can we get rid of it?
Don't worry! You just need a tool to convert eBooks to AZW3/KFX/Mobi formats to read them on Kindle more comfortable. Hereby, we would like to share PDFMate eBook Converter Professional for you to convert eBooks.
PDFMate eBook Converter
PDFMate eBook Converter is a professional and powerful tool that can help to convert eBooks from Kindle, Adobe, Kobo & Nook to EPUB, MOBI, PDF, TXT, AZW3, and KFX formats. Meanwhile, this tool also supports to convert PDF, HTMLZ, PRC, or DOCX (up to 24 formats) files to six eBook formats. Besides, the program enables you to edit the metadata of eBooks, including title, author, publishing date, publisher, and so on.
---
eBook Converter Pro.
The most powerful eBook converting tool, specially designed for users to convert Kindle, Adobe, Kobo, Nook eBooks to various formats, including EPUB, MOBI, PDF, AZW3, TXT and KFX.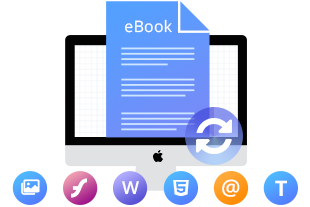 ---
The following detailed tutorial will show you how to convert eBooks from EPUB format to Kindle supported AZW3, KFX, or Mobi format.
Please download PDFMate eBook Converter Professional before the start. You can download it by clicking the 'download' button shown above.
Step 1: Add EPUB files to PDFMate eBook Converter
Open PDFMate eBook Converter and connect your eReader to the computer. Then choose your eReader on the left panel, the program will automatically detect and list all your book collection in the left panel, now you can select EPUB eBooks to convert. Or click the 'Add Files' button on the top left corner, you can also import EPUB books from computer to the program.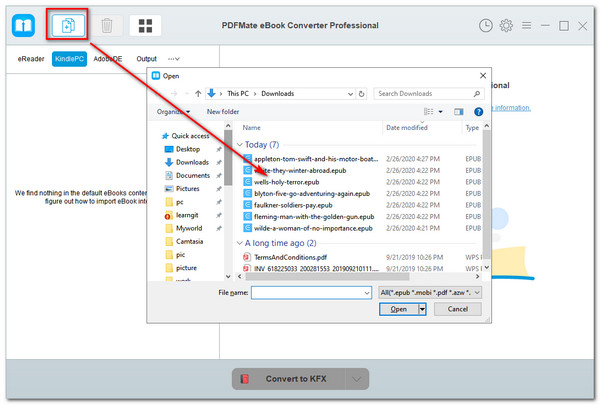 Step 2: Choose Output Format and Adjust Settings
Click the 'Setting' button on the main interface, and then there will pop-up a window allowing you to change the output folder as required and set Source Location of your eBooks. Then, please click the 'V' button next to the 'Convert' button to set the output format as AZW3/KFX/Mobi.
Tips: You can also click the 'edit' button to edit all the necessary and useful meta information before conversion, including title, author, publishing date, publisher, etc.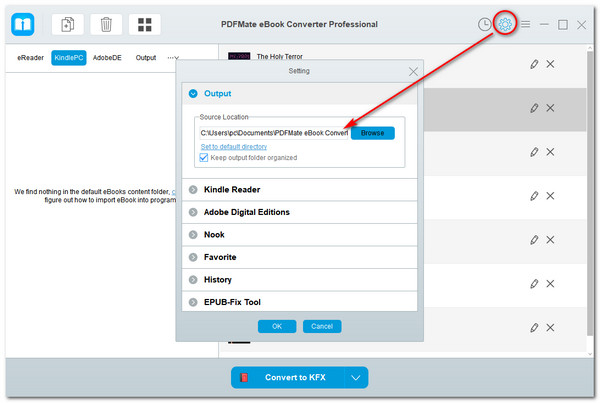 Step 3: Convert EPUB to AZW3/KFX/Mobi Format
Now, click the 'Convert' button, then the program will start converting the EPUB format eBooks to AZW3/KFX/Mobi formats effortlessly.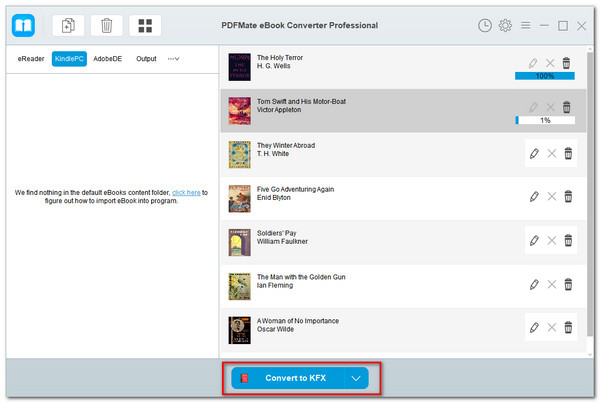 When the conversion is complete, you can find all converted eBooks in AZW3/KFX/Mobi formats by clicking the 'history' button.
Now, please just simply connect your Kindle to your computer via USB and transfer the converted AZW3/KFX/Mobi format eBooks to the device. Then you will be able to read your EPUB eBooks on your Kindle whenever you want. This is a simple and easy method for you to read EPUB eBooks on your Kindle. You do not need to worry that your device might not support the specific eBook format when you find an eBook online. You will always be able to read all the eBooks you owned on your Kindle eReaders.
With PDFMate eBook Converter, you could read your entire eBook collection on your Kindle. With this tool, you can also convert all of your eBooks (includes Adobe, Kobo, and Nook eBooks) to MOBI/AZW3/KFX format for reading on Kindle devices.
Note: The free trial version of PDFMate eBook Converter enables users to convert one book at a time. You can unlock the limitations by purchasing the full version.
For more information about eBook Converter Professional, please visit eBook Converter Professional.
---
Related Articles
---
Recommended Products