How to Merge PDF Files for Free on Windows
Often we need to merge and combine multiple pdf files together. Imagine that tomorrow there will be an important demonstration, and now you have already prepared your proposal in PDF format, but you must merge your pdf file with the architect's design drawing, the engineer's report and scattered documents from other departments to a single pdf document on your PC. What are you going to do? The easiest way is to take full advantage of a good pdf merger or pdf combiner. Here we will introduce a free but powerful pdf tool – PDFMate Free PDF Merger, to help you integrate and merge your pdf files on Windows step by step.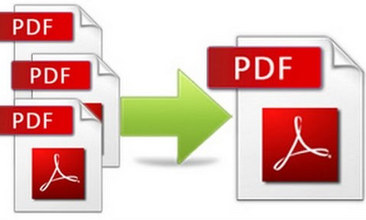 PDFMate PDF Converter Free is a combination of PDF Converter, PDF Merger and PDF Extractor. On one hand, the program can convert PDF to Word, Text, EPUB, Image, HTML, SWF and specify page range to extract pages from the target PDF; on the other hand, it can merge and combine two or more pdf files on your PC easily and totally free. For its' powerful features in merging pdf files without any charge, PDFMate users usually name it PDFMate Free PDF Merger. (Note: You can apply the program to set password for your confidential pdf files as well. )
Now let's take a look at the detail steps to merge and combine pdf files for free on Windows with the well-received PDF combiner – PDFMate Free PDF Merger.
Step 1. Download PDFMate PDF Converter Free on PC

Step 2.Add PDF Files to the Program
Click button "Add PDF" on the upper left. There will be a pop-up window allowing you to browse and upload the PDF files that you want to combine and merge together.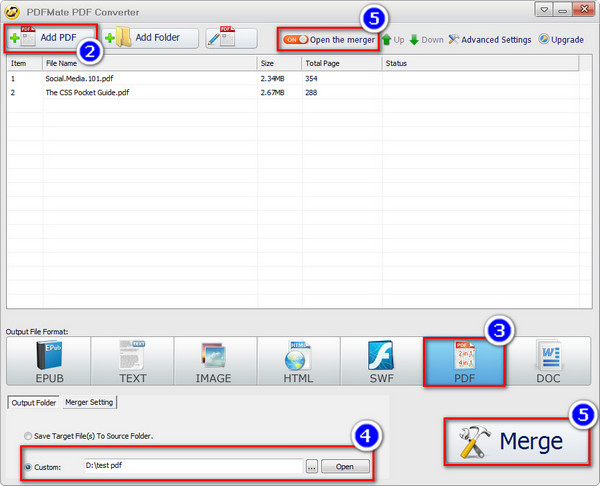 Step 3.Choose Output Format
Click on the output format you want to save the merged pdf file as (EPUB, TEXT, IMAGE, HTML, SWF, PDF, WORD). Here we choose PDF as the output format.
Step 4.Customize Output Path
On the bottom, you can customize the output path for the target combined pdf file. Click button "Output Folder" and then click icon "…" to choose the folder that you want the merged new file to be saved in.
Step 5.Merge PDF Files for Free
Click button "OFF" besides "Close the Merger" on the top to turn the free Merger on. Then click button "Merge", and PDFMate will automatically merge your pdf files in a few seconds.
Now go to the output path you set in Step 4 and you can find the merged PDF file ready for you.
Related Articles