Best Way to Convert eBook to KFX Format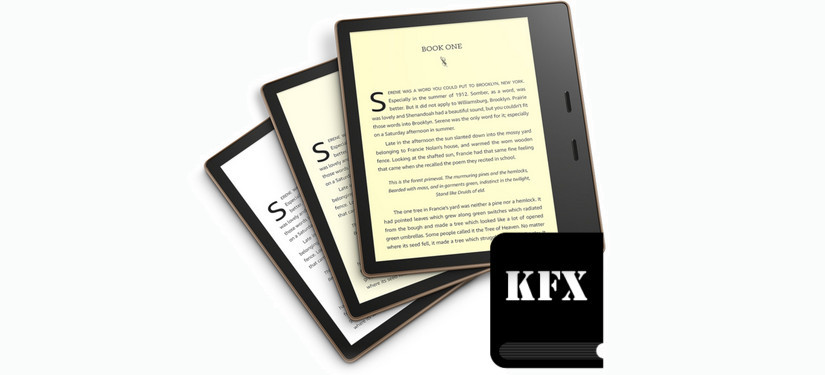 What is KFX?
KFX is an eBook created in the Kindle Format 10 (KF10), Amazon's successor to the .azw3 (Kindle 8) format, along with releasing with the Kindle Paperwhite 3. It contains an Amazon eBook (including the text and metadata describing the book, such as the author, title) and number of pages. What's more, it also featured with a new enhanced typesetting engine and new Bookerly font that are not provided in previous formats.
How to Convert eBook to KFX Format?
Since the KFX file adopts an enhanced typesetting engine and Bookerly font to make eBooks content more clear and concise, a lots readers will prefer this format. But how can we convert eBooks to KFX format? Here, a powerful tool, PDFMate eBook Converter is suggested. It's a professional eBook helper, featured with a clear, concise and powerful interface, to accurately empower users to convert eBooks from Kindle, Adobe, Kobo & Nook into open formats like EPUB, Mobi, PDF, TXT, AZW3, as well as KFX. With it, you will be able to convert eBooks to unrestricted KFX with just a few clicks.
How to Buy and Read Kindle Books on iPhone or iPad
Free PDF Converter with OCR
---
eBook Converter Pro.
The most powerful eBook converting tool, specially designed for users to remove DRM from Kindle, Adobe, Kobo, Nook eBooks and convert them to various formats, including EPUB, MOBI, PDF, AZW3, TXT and KFX effortlessly.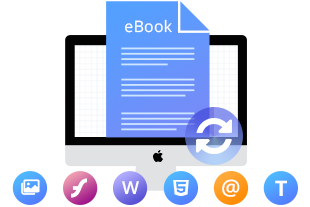 ---
The following will be a detailed tutorial, helping you to convert eBooks to unrestricted KFX as needs. Please download PDFMate eBook Converter first before getting started.
How to Convert EPUB to TXT
How to Convert KFX eBooks to TXT
Step 1: Add eBook to PDFMate eBook Converter
Please click the "Add File" button on the upper left. There will be a prompting you to add eBook files to PDFMate eBook Converter. Both single adding and batch adding are supported.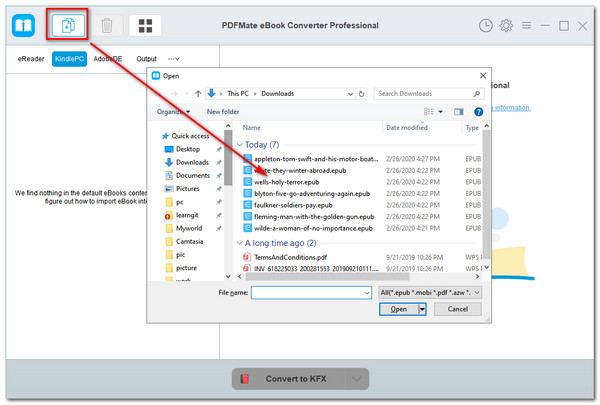 Step 2: Set KFX as the Output Format
Click the "V" icon on the bottom and select the output format for your ebooks, here please choose "KFX" as the output format. And please click the 'Setting' button on the upper right corner, here you can customize the output path for the converted eBooks.
Tips: You can also click the "Edit" button to edit all the important and useful meta information before conversion, including title, author, publishing date, publisher, etc.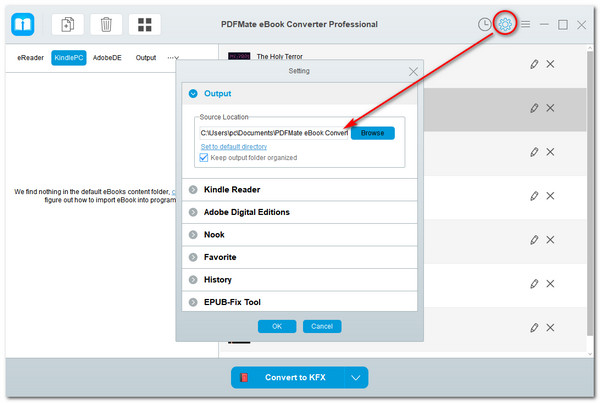 Step 3: Convert eBooks to KFX
After selecting the settings, please directly click the "Convert" button, then PDFMate eBook Converter will start converting the selected eBooks to unrestricted KFX quickly.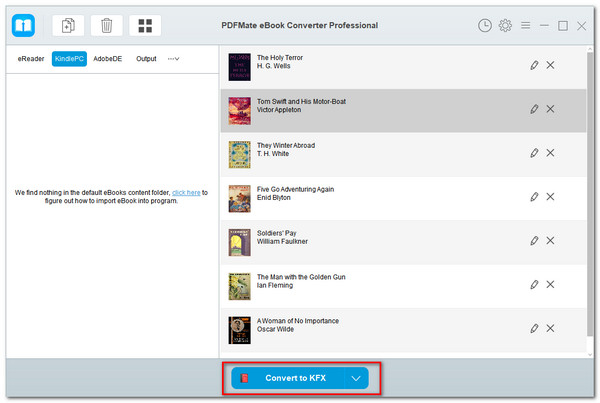 When the conversion is complete, you can find your eBooks in unrestricted KFX format by clicking the "History" button.
---
Bonus: Kindle KFX Format Supported Devices and Apps
Although Kindle KFX has been released for a while, not all Kindle devices or Kindle reader apps support this format because of its special rendering techniques. The following is about Kindle KFX format supported devices and apps:
KFX format can be read on:
a. Kindle for PC v1.19 and above
b. Kindle for PC v1.21
c. Kindle for Android v7.2
d. Kindle devices with firmware=5.8
KFX format can't be read on:
a. Kindle devices with firmware<5.8
b. Kindle for iOS v6.03
c. Kindle Previewer v2.94
---
Conclusion
PDFMate eBook Converter is powerful to convert all eBooks from Kindle, Adobe, Kobo, and Nook to KFX, thanks to the advanced conversion core and broad compatibility with the Windows system.
Note: The free trial version of PDFMate eBook Converter enables users to convert one book at a time. You can unlock the limitations by purchasing the full version. Of course, it is suggested to download the trial version first to test whether it meets your needs for converting.
For more information about eBook Converter Professional, please visit http://www.pdfmate.com/ebook-converter-professional.html.
---
Recommended Products