8 Sites to Get Kobo Books for Free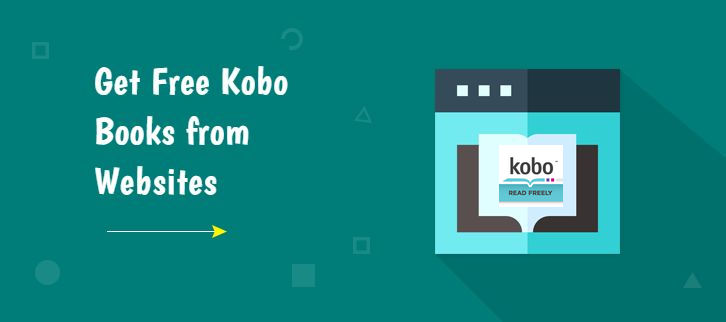 Free Kobo Books
•
Get Free Kobo Books from 8 Sites
Many eBook lovers look for free Kobo books on the internet because some books on Kobo are really too expensive. Then do you know where can you download Kobo books for free? And how to read the free books on Kobo? Here we can give you support and tell you where you can get free kobo books and most importantly, how to download eBooks in the format that can be read on Kobo if you want to always keep the Kobo books you have.
8 Sites to Get Kobo Books for Free
In the following article, we will list out 8 websites that you can get free Kobo books, and some of which may be known to you.
Kobo claims that it offers over 1 million free books. People can find free books by looking for the author's name, the title of the book or genre and check "Only free items" under the pricing option on the filter. Or you can just go to free eBook page, here it shows you today's top free eBooks and displays some free books in different categories.
But one thing you should note is that some books, even if they are available for free, are still encoded books. It means that you are able to read the books on Kobo eReader and its app but cannot move the books to other devices for reading.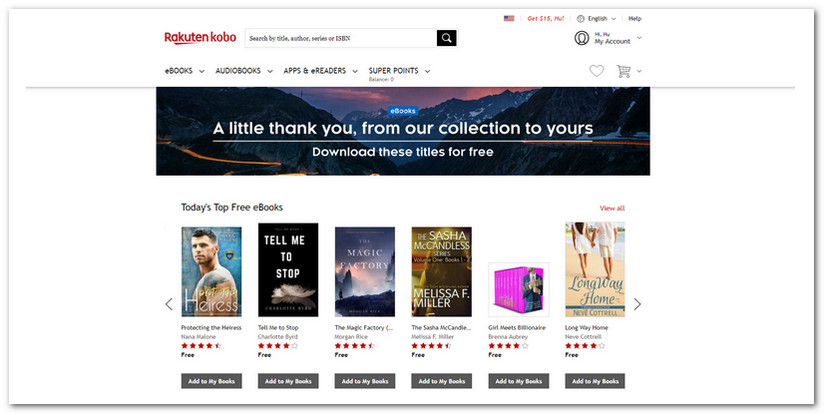 2. Smashwords
Smashwords is a platform for self-publishing e-books. It converts the books to multiple eBook formats for various devices, including Nook, Kobo, and Kindle. There is a large quality of books from authors and independent publishers. The platform will show you how many books published here and how many books for free.
To find free books, you could tap the "Free" tag and select categories at the left panel. In addition, all books on Smashwords are totally unrestricted. You can not only download Kobo books in EPUB or PDF format but also read them online in the browser.

3. Feedbooks
Feedbooks provides ebooks with particularly high-quality typesetting in multiple formats, particularly EPUB, Kindle, and PDF formats and all books from this site can be read on any device. So you can download eBooks in EPUB or PDF format from here and read them on Kobo e-Reader and the Kobo app on smartphone & tablet.
On Feedbooks, you can find books by clicking "Public Domain" and "Original Books". And the books are classified as "Fiction" and "Non-fiction", you can also choose a category to find the books you like and download free Books for Kobo.

DigiLibraries is a free books library and aims to provide quality, fast, and required services for downloading and reading eBooks. It offers almost 30,000 free books in digital format, including EPUB and PDF format for any taste. There are various categories to choose from. You can select one of the categories on the left or simply use the search box at the top to find the books you need and then download them in the format that is compatible with Kobo. Please note that the site allows you to download 50 books per day, which should be enough for most readers.

5. ManyBooks
ManyBooks offers more than 50,000 free books in digital format on the internet. There is a regularly updated "editor's choice" selection of books and a section of trending titles. The record of each book is displayed in detail like publish date, a plot summary, and a text excerpt. If you want to download books from it, you just need to register for an account. This site provides free books in multiple formats, once you click the download link, you need to choose the appropriate format to download the books.

6. Open Library
Open Library is a project of Internet Archive which intended to create "one web page for every book ever published". There are over 1,000,000 eBooks free available for anyone's use. You can browse books by subject and you can see how many books here in each subject. Or you can find the books you need by typing the book's title to the search box. Then click the read button and choose the format to download the book to your computer.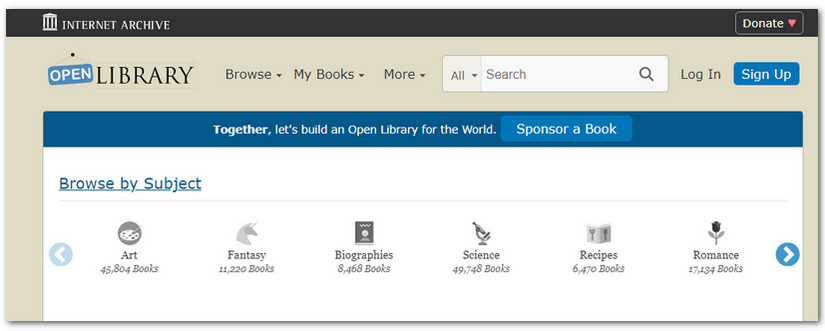 7. Goodreads
Goodreads is a social cataloging website and the largest site in the world for readers and book recommendations. But the catalog is not huge, there are only 2,500 titles listed here, many of which are free, the books are accessible in EPUB, PDF, and TXT format.

E-Books Directory is a freely accessible eBooks website. Currently, there are 10,963 free eBooks in lots of categories and it is daily updated with newly eBooks in multiple formats, including EPUB format. You can choose a category to find eBooks and download links, or just search Kobo books to download.

There are many websites that provide free eBooks for readers to download, and the above websites we mentioned are most popular and worth downloading free books as these websites offer a large number of eBooks in multiple formats and covering various categories. Readers can not only get free Kobo books but also free books for Nook, Kindle, and so on.
---
Extra Tip: How to Make the Free Books Readable on Kobo
No matter which website the books downloaded from and no matter which format they are, some books from the above websites may not be opened properly on Kobo due to incompatible with Kobo. In this case, you may look for a way to make these books readable on Kobo. To deal with this problem, the best way is to change the format of these free books. Here we recommend a professional tool -- PDFMate eBook Converter, to convert eBooks so that they can be totally supported by Kobo.
PDFMate eBook Converter is a program designed for converting eBooks to multiple formats, such as EPUB, PDF, MOBI, TXT, AZW3, and KFX format to make the books can be read on any eBook readers and apps. Besides that, you are able to edit the basic information of the books for management. With this program, you can easily convert eBooks from websites to EPUB and PDF formats that are compatible with Kobo. In addition, as a comprehensive program, this program is able to remove limits for the eBooks from Kobo, Kindle, Nook, and Adobe, keeping the books accessible forever.
How to Read Kindle Books on Kobo
How to Convert Kobo Books to EPUB Format
---
eBook Converter Pro.
The most powerful eBook converting tool, specially designed for users to convert eBooks from Kindle, Adobe, Kobo, Nook eBooks and convert them to various formats, including EPUB, MOBI, PDF, AZW3, TXT and KFX effortlessly.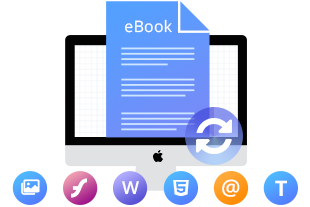 ---
The following will be a detailed tutorial, please download PDFMate eBook Converter first before getting started.
How to Transfer Kobo Books to Nook
How to Read Kobo Books on Kindle
Step 1: Add eBooks to PDFMate eBook Converter
Open PDFMate eBook Converter. If you have downloaded the books from the sites to your computer already, you need to click the "Add eBook" button on the top left corner. A window will pop up, please find the folder you save the eBooks and then add the eBooks to PDFMate.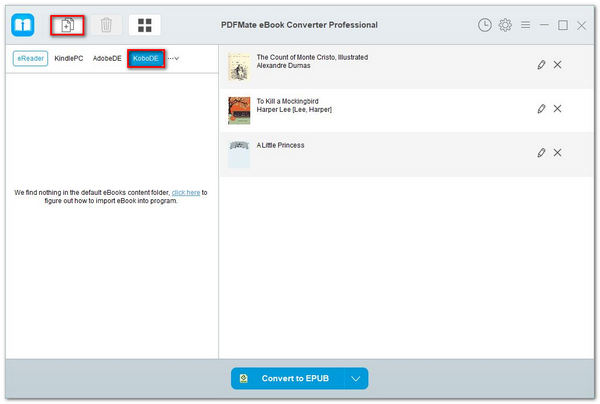 If you want to convert the books from Kobo for PC library, you need to click the "Library" button on the top left and choose "KoboDE" option, the program will detect the books on your Kobo library and show it on the left panel of the program, then you need to add the books to the right panel for conversion.
Step 2: Set Output Format, Output Path, and Edit Meta Information of eBooks
Click the "Setting" button on the top right to customize the output path of your eBooks. Then choose the output format as EPUB (or PDF) by clicking the "V" icon on the bottom. There is a "Pen" icon on each strip of eBooks. Click it to change the meta information like author, publish date, publisher, etc.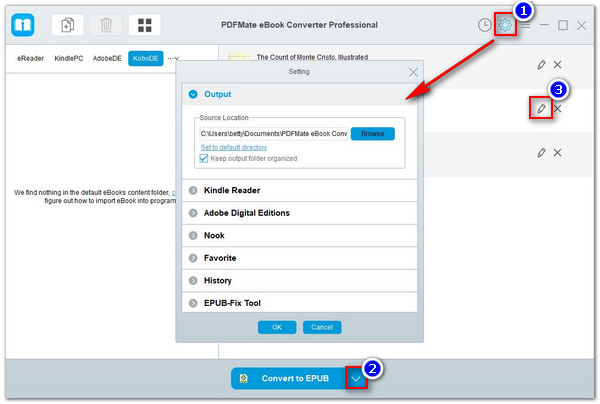 Step 3: Convert eBooks to EPUB Format
Click the Conversion button to convert the selected eBooks. Once the conversion is complete, click the "History" button to check what you have converted.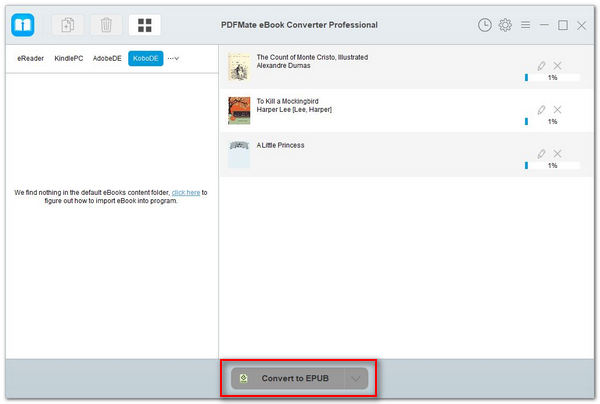 Since you have downloaded unrestricted Kobo books in EPUB format, you can read the Boko books for free on any device or share them with friends. Another benefit of using PDFMate eBook Converter is that you can also convert eBooks from other eBook eReaders to the format that is compatible with Kobo. In addition, if you want to get free books for Kindle, Nook, and Adobe, just copy the steps shown above.
---
Conclusion
In this article, we list out some popular sites to download free eBooks for Kobo, and also provide a solution to convert eBooks when the downloaded books from these websites cannot be read on Kobo properly. We hope the content is helpful for you to get the book you like in a more practical and effective way.
Note: The free trial version of PDFMate eBook Converter enables users to convert one book at a time. You can unlock the limitations by purchasing the full version. Of course, it is suggested to download the trial version first to test whether it meets your needs for converting.
For more information about eBook Converter Professional, please visit http://www.pdfmate.com/ebook-converter-professional.html.
---
Recommended Products