How to Read Kobo Books on Kindle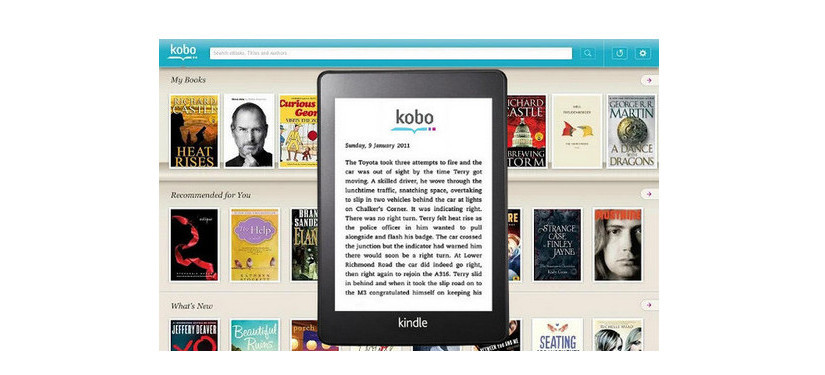 Currently there are all kinds of eBooks and e-Readers in the e-Market offered by various vendors, among which, Amazon Kindle and Kobo are the two well-known ones. For eBooks, one of the distinct features is that most of them are protected by Digital Rights Management (abbreviated DRM), which restricts users to read them with specific apps or devices.
Kobo books, for example, are Adobe DRM-protected ACSM files. They are kept "in the cloud", or we can say on Kobo's servers. We are limited to read Kobo books with Kobo e-Reader or with Kobo app installed on other devices. However, for various reasons, there are always some people who'd like to read Kobo books with other e-Readers, like Kindle, the most popular one.
As we all know, Kobo books can't be read directly on a Kindle. For one thing, Kobo books are protected in DRM. For another, Kindle devices only support their own Kindle formats, such as MOBI, AZW3, PRC…. But Kobo books are typically in EPUB format, which is not supported by Kindle series.
Therefore, if you'd like to read Kobo books on Kindle, it's a must to remove the DRM from Kobo books and convert them to a Kindle-supported format, like MOBI. Below we are going to show you how to make it step by step.
How to Read Kindle Books on Kobo
8 Sites to Get Free Kobo Books
---
Tool Required: Any eBook Converter
Any eBook Converter is a professional eBook tool which is specially developed for removing the DRM from Kobo, Kindle, Adobe & Nook eBooks and converting them to DRM-free MOBI, PDF, EPUB, TXT, KFX or AZW3 format.
Key Features of the Program:
Support up to 24 input formats, such as EPUB, PRC, HTMLZ, etc;
Remove DRM from Kindle, Adobe, Kobo & Nook eBooks;
Convert eBooks to MOBI, EPUB, AZW, PDF, TXT or KFX format;
Save or Customize important metadata.
Support the latest version of Windows 10.
---
Tutorial: How to Read Kobo Books on Kindle
Any eBook Converter enables us to get rid of the DRM in Kobo books and convert Kobo books to MOBI format within three simple steps. Before we get started, please have the program well installed on your computer.
Note: The Kobo desktop app is required to be installed and registered before running the program to enable Any eBook Converter to get access to your Kobo Library.
Step 1: Add Kobo Books to PDFMate
Click "+" button on the left panel and then select "Kobo". Any eBook Converter will find all the eBooks in your Kobo for PC library automatically. Drag and drop the eBooks you want to read on Kindle to the right panel.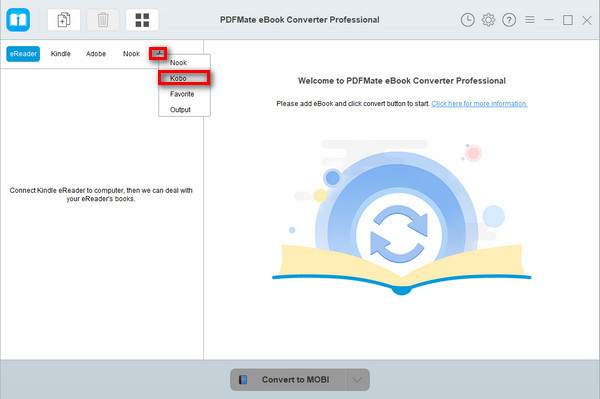 Note: If you are using a Kobo eReader, simply connect your e-Reader to your computer and Any eBook Converter will scan and detect the device automatically.
Step 2: Choose MOBI as the Output Format
Click "V" icon on the bottom and select "MOBI" as the output format. And by clicking the "Settings" button on the upper right, you can customize the output path for the converted Kobo books.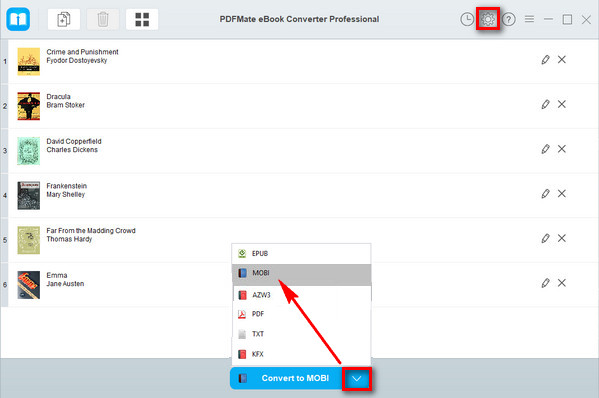 Step 3: Convert Kobo Books to MOBI Format
Click "Convert to MOBI" button to start converting your Kobo books to MOBI format.
When the conversion is done, you can find the converted PDF files by clicking the "History" button on the upper right or directly going to the output folder you set in previous step.
Step 4: Transfer Kobo Books to Kindle
Now you've got your Kobo books in MOBI format, you can easily transfer them to your Kindle. Just connect your Kindle device to your computer with a USB cable, and it will be recognized as a "Kindle" drive. Copy and paste your converted Kobo books to the "Documents" / "Books" folder under the Kindle drive. Eject your Kindle from your computer. You can find your Kobo books displayed under "Device" / "On Device" Shelf.
Note: The free trial version of Any eBook Converter enables users to convert one book at a time, you can unlock the amount limitation by purchasing the full version.
---
Recommended Products