How to Make PDF Annotation with PDF Annotator Free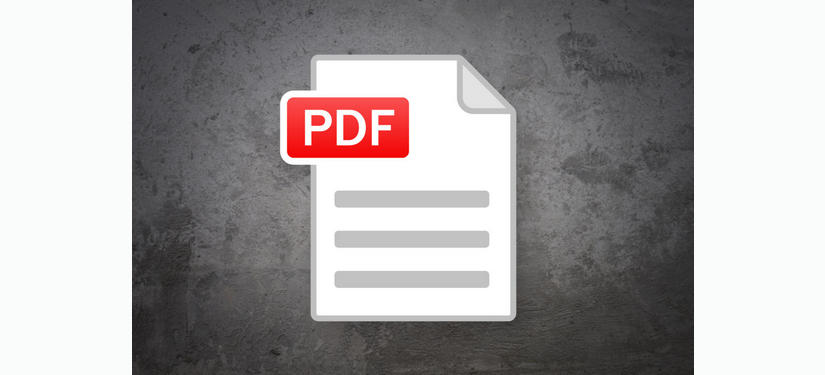 PDF Converter
•
PDF Annotator Free
The Occasions that Need to Annotate PDF Files
PDF document is frequently used in our daily work for its advanced feature on preserving the file formatting and layout. It is especially good for sharing the files. We all know that PDF is a kind of file format that can't be edited, but there are times that we have to make annotation on PDF files for some purposes. The occasions that require annotating PDF like:
(for daily work) when reading a PDF file, one wants to make comments, insert notes, highlight separate words or leave annotation on the PDF document;
(for study) when receiving some PDF files on course, students need to annotate or highlight some areas of the PDF for studying;
(for business) when exchanging ideas on a group project in PDF document, in order to express opinions on some content, people should make annotation on the PDF file to point them out.
---
Methods to Annotate PDF with Free PDF Annotators
Annotating PDF offers users great flexibility to make comments on PDF and highlight PDF file. Perhaps, you occasionally use PDF files or maybe have a PDF reader for PC without many or any annotating features. No matter what reason you have for needing a quick way to annotate PDF files, here we provide you some effective methods for annotating PDF with free PDF annotators or tools.
PDF Annotator - Adobe Reader X
Adobe Reader X is a powerful PDF software solution that enables you to view, print and comment on PDF documents. It can be used as PDF annotator for annotating PDF files.
The application allows you to make annotation, write down comments and feedback using a separate frame in the right side of the window, while the reading space is not affected at all. To make annotations in the PDF file, you should firstly open the PDF Adobe Reader X, then add the PDF file that you want to make annotation/comment, click on "Comment". If this option is not available in your Adobe Reader, then it is possible that your Adobe Acrobat version than X or the PDF has not been prepared properly. By taking this action, you can open a task pane (see the image on the right), and, below that, a list of all Comments in the text.
PDF Annotator - Web-based PDF Tools
Few web-based PDF tools actually offer annotation features, such as Foxit Reader and PDF X-change Viewer.
Foxit Reader 2.0 allows you to draw graphics, highlight text, type text and make notes on a PDF document and then print out or save the annotated document. Foxit Reader has made this particular feature, together with most other basic annotating tools, available for free. If you're looking for an alternative, Foxit Reader is definitely a good choice.
PDF X-change Viewer enables you to annotate PDF documents. It allows a variety of operations, including highlighting, crossing or underlining text; drawing shapes; stamping and filling out PDF forms with a built-in typewriter; insert, edit or rename bookmarks. Unfortunately some advanced features are available only to the paid-for Pro version.
PDF Annotator - PDFescape
PDFescape is a free online PDF reader, editor, form filler and form designer with the basic features that most users welcome. There is no download nor installation when using this service. You don't need an account to edit a PDF and can load PDF from your computer or from an URL. The number of PDF-annotation tools is pretty impressive as you can whiteout (hide parts of your PDF file), and insert links, insert arrows, images, sticky notes, checkmarks and even form fields of several types (text, checkbox, listbox, etc).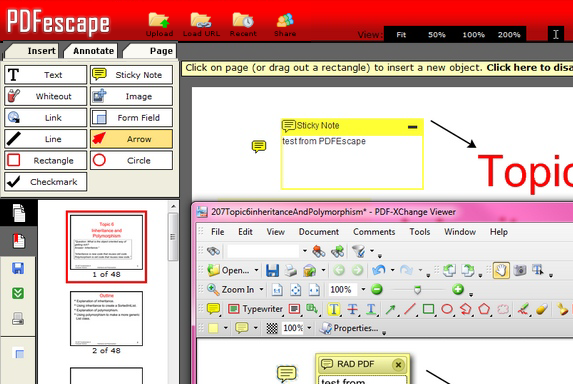 ---
Make Annotation on PDF Files - You can Do it!
With PDF annotators, you can make comments or annotations, insert notes, add arrows or highlight specific content on any PDF easily and freely. No matter you are student or company employee, no matter you are aiming at study or dealing with business, if only you need to make annotation on PDF, you should find the PDF annotator for help. And in fact, annotating PDF is not as difficult as you imagined, by taking any method introduced above, you can finish the task successfully.
---
Extra Recommendation
If you are searching for a way to convert PDF to EPUB or any other format, PDFMate PDF Converter Free, must be your first choice. Highlights:
Convert PDF to Word, Text, EPUB, Image, HTML, SWF;
Merge PDF files with high speed and precision;
Set password and permission for opening, copying or editing PDF files;
Personalize output path with customization settings;
Provide free technical support and excellent customer service.
---
Recommended Products