Kindle vs. Kindle Paperwhite vs. Kindle Oasis: Which One to Choose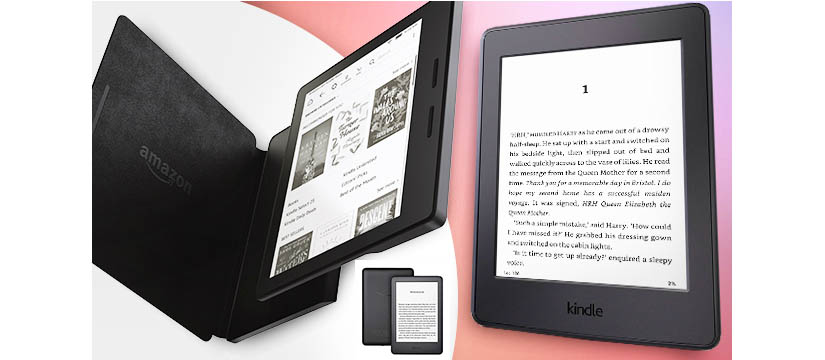 Kindle vs. Paperwhite vs. Oasis
•
which is best
When you ask someone which e-readers are worth owning it, Kindle must be one of them. Kindle is one of the most popular e-readers in the market. Amazon launched its first e-reader under the Kindle brand in 2007. Kindle launched more than a decade, and there are three options for you to choose, which are Kindle, Kindle Paperwhite, and Kindle Oasis. The price of Kindle starts from $89, 99 to $349, 99 (without discount); it might differ with a discount in the different regions. With this significant price differences between different models, which one is worth to own it, or which one is the most suitable one for you? Hereby, we will make a comparison between each model (10th Gen), and you will find the answer.
Kindle vs. Nook
Kindle vs. iPad
Kindle vs. Kindle Paperwhite vs. Kindle Oasis
All the models of Kindle e-readers feature a glare-free screen and a battery with weeks of battery life, and access to audiobooks (via Bluetooth). In general, Kindle is an excellent e-reader for people to feel like reading books on the screen. The electronic paper screen used by Kindle e-reader won't cause eye strain, which is a nice feature for long-term reading on the screen, rather than the tablets with LCD or LED display. Of course, all Kindle e-reader has access to the Kindle eBook store to download or buy the books with a Wi-Fi connection. A large number of eBooks are published in the Kindle Store, which is a significant advantage compares to other e-readers' eBook store.
Kindle E-readers Comparison
| | Kindle | Kindle Paperwhite | Kindle Oasis |
| --- | --- | --- | --- |
| Screen Size | 6" | 6" | 7" |
| Storage | 4 GB | 8 GB or 32GB | 8 GB or 32GB |
| Resolution | 167 PPI | 300 PPI | 300 PPI |
| Front Light | 4 LEDs | 5 LEDs | 25 LEDs |
| Weeks Battery life | | | |
| Audible (via Bluetooth) | | | |
| Waterproof (IPX8) | | | |
| Adjustable warm light | | | |
| Auto-adjusting light sensors | | | |
| Automatic rotating page orientation | | | |
| Page turn buttons | | | |
| Wi-Fi Connectivity | Wi-Fi | Wi-Fi or Wi-Fi + Free Celluar Connectivity | Wi-Fi or Wi-Fi + Free Celluar Connectivity |
Kindle
Kindle, the basic model of Kindle e-readers, has a 6-inch and 167 PPI (pixels per inch) screen with 4 LED front lights. The built-in front light is a new feature for the Kindle e-reader, which you cannot find with the earlier versions of it. The storage room of the Kindle is 4GB only, without another choice. Besides, you can choose the device in black or white color.
Kindle is the basic model of Kindle e-reader series, and it is good enough for people reading text eBooks on the screen. The 167 PPI resolution screen is a bit poor for readers who need to read eBooks contains more images.
Kindle Paperwhite
The price difference between Kindle and Kindle Paperwhite is $40. Kindle Paperwhite features Amazon's signature 300 PPI, glare-free Paperwhite display (6-inch). The Kindle Paperwhite also features 5 LED front lights for a better view when you are reading in the dark. Besides, Kindle Paperwhite comes with a waterproof (IPX8) feature that enables you to enjoy reading on the beach or next to the pool. There is another improvement of Kindle Paperwhite; the storage room is 8GB, which is twice as Kindle. Of course, Amazon also gives you an extra option with a 32GB storage room. The color of Kindle Paperwhite is different from Kindle that you have the choice between black and twilight blue.
With those extra features, you will get a better reading experience compares to the Kindle. Kindle Paperwhite is the most suitable product for most people who would like to own an e-reader. It has the most features you need at a reasonable price. However, you might deserve the very best, the Kindle Oasis. Now, let's take a look at the difference between those two models.
Kindle Oasis
Kindle Oasis is the flagship model of the Kindle e-reader series. The price of Kindle Oasis starts at $249,99, which is $120 higher than Kindle Paperwhite.
Kindle Oasis features Amazon's best ever 7-inch, 300 PPI Paperwhite display using the latest e-ink technology. Except for the better screen, Kindle Oasis has a new color-adjustable integrated light that allows you to customize the color tone from cold to warm (there are 25 LED lights used in Kindle Oasis in total). You can also schedule the screen warmth to update automatically with sunrise and sunset -- not unlike Night Shift mode on Apple devices. Besides, the device could adjust the light levels automatically by enabling its auto-adjusting light sensors.
The design of Kindle Oasis is differing from other Kindle models; it features a sleek ergonomic design with page turn buttons, perfect for one-handed reading. Another special point of the design, the color options of Kindle Oasis are different from the other two models, which are graphite and champagne gold. Meanwhile, there is a gyroscope used in Kindle Oasis that enables the device to rotate page orientation automatically.
With the larger screen and adjustable warm and cold lights, the reading experience on Kindle Oasis is better than Paperwhite. Besides, the page turn button added to Kindle Oasis is much easier for the user to enjoy reading with one-hand handling. Moreover, Amazon provides an option of a leather chargeable cover for Kindle Oasis, which features a spare battery that could extend the battery life to extremely long.
Which is the best Kindle?
Which Kindle is best for you? With the comparison of each model of Kindle, it is quite natural for you to choose the right Kindle e-reader.
Kindle is the best choice for someone who would like to choose a budget e-reader. It has all the necessary features as an e-reader and performs quite well for reading books on screen. If you can stretch to the Kindle Paperwhite, we still feel it is the best choice compares to the other two models. Kindle Paperwhite is the device with the best balance of price and features. Of course, if you deserve the very best, the Kindle Oasis is luxury all the way. Kindle Oasis has all the functions you can imagine for an e-reader, which comes with the best experience of e-reading.
Extra information of cases: Many ways to protect your Kindle
Cases or covers are recommended to protect your Kindle. Due to all three models have been redesigned, they won't fit into previous-generation cases. You can find cloth case covers for the Kindle in four colors on Amazon costs $30. There are four colors for you to choose, which are Sandstone White, Charcoal, Cobalt Blue, and Punch Red.
For the Kindle Paperwhite, Amazon offers a basic water-resistant fabric cover in multiple colors, including Onyx Black costs $30, a mid-priced leather cover costs $40 in Onyx Black and other colors, and a premium leather cover costs $60.
The Kindle Oasis cover options include a water-safe fabric cover that costs $40 in Charcoal Black, Punch Red, and Marine Blue, a leather cover in Merlot or Black for $50 and a premium leather cover for $65.
---
How to Read EPUB Format eBooks on Kindle?
Amazon.com: 'Content Formats Supported - Kindle Format 8 (AZW3), Kindle (AZW), TXT, PDF, unprotected MOBI, PRC natively; HTML DOC, DOCX, JPEG, GIF, PNG, PMP through conversion; Audible audio format (AAX).'
When we take a look into the description of Kindle, we will find that Kindle does not support to read EPUB format contents. It is a disadvantage for Kindle compares to other e-readers, since you can find there a large number of eBooks save in EPUB format on the internet. Thus, how can we get rid of it?
Don't worry! You just need a tool to convert eBooks to AZW3/KFX/Mobi formats to read them on Kindle more comfortable. Hereby, we would like to share PDFMate eBook Converter Professional for you to convert eBooks.
PDFMate eBook Converter
PDFMate eBook Converter is a professional and powerful tool that can help to convert eBooks from Kindle, Adobe, Kobo & Nook to EPUB, MOBI, PDF, TXT, AZW3, and KFX formats. Meanwhile, this tool also supports to convert PDF, HTMLZ, PRC, or DOCX (up to 24 formats) files to six eBook formats. Besides, the program enables you to edit the metadata of eBooks, including title, author, publishing date, publisher, and so on.
---
eBook Converter Pro.
The most powerful eBook converting tool, specially designed for users to convert Kindle, Adobe, Kobo, Nook eBooks to various formats, including EPUB, MOBI, PDF, AZW3, TXT and KFX.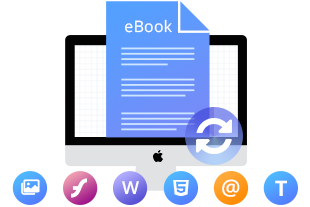 ---
The following detailed tutorial will show you how to convert eBooks from EPUB format to Kindle supported AZW3, KFX, or Mobi format.
Please download PDFMate eBook Converter Professional before the start. You can download it by clicking the 'download' button shown above.
Step 1: Add EPUB files to PDFMate eBook Converter
Launch PDFMate eBook Converter and click 'Add Files' button on the top left corner to add EPUB files. Both single adding and batch adding are supported.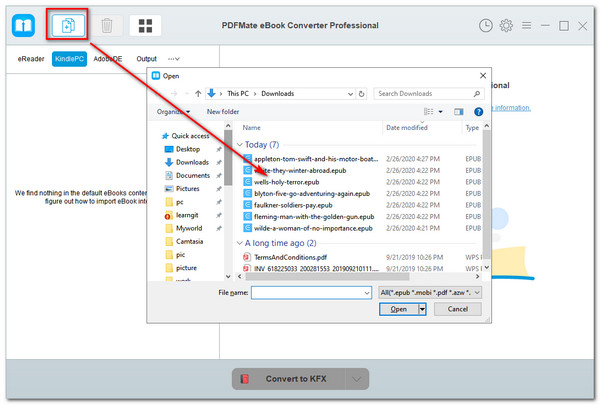 Step 2: Choose Output Format and Adjust Settings
Click the 'Setting' button on the main interface, and then there will pop-up a window allowing you to change the output folder as required and set Source Location of your eBooks. Then, please click the 'V' button next to the 'Convert' button to set the output format as AZW3/KFX/MOBI.
Tips: You can also click the 'edit' button to edit all the necessary and useful meta information before conversion, including title, author, publishing date, publisher, etc.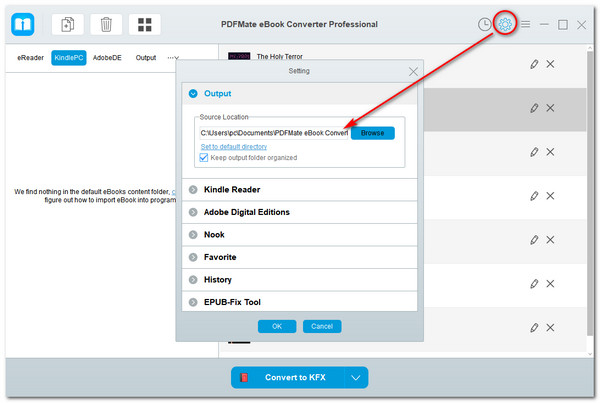 Step 3: Convert EPUB to AZW3/KFX/Mobi Format
Now, click the 'Convert' button, then the program will start converting the EPUB format eBooks to AZW3/KFX/Mobi formats effortlessly.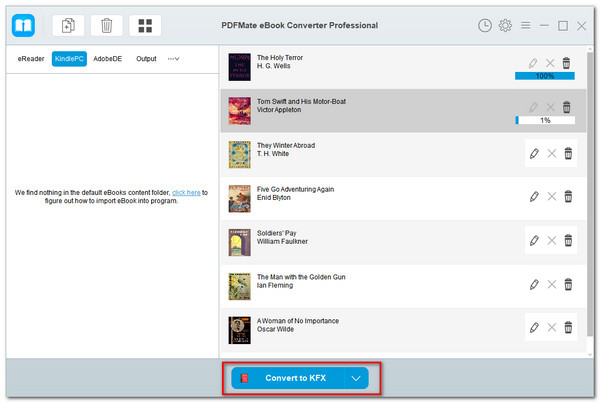 When the conversion is complete, you can find all converted eBooks in AZW3/KFX/Mobi formats by clicking the 'history' button.
If you would like to read your entire eBook collection on your Kindle, then PDFMate eBook Converter must be the best tool for you. With it, you can convert all of your eBooks (includes Adobe, Kobo, and Nook eBooks) to AZW3/KFX/MOBI format for reading on Kindle devices.
Note: The free trial version of PDFMate eBook Converter enables users to convert one book at a time. You can unlock the limitations by purchasing the full version.
For more information about eBook Converter Professional, please visit eBook Converter Professional.
---
Related Articles
---
Recommended Products