How to Transfer Kobo Books to Nook

If you want to read Kobo books on a Nook, you will find that some Kobo books can be transferred to Nook but most books cannot. For one reason, the format of Kobo books may be incompatible with Nook. For another reason, Kobo books that you purchased on book's store are protected by Digital Right Management, which prevents unauthorized copying of eBooks so that the eBooks can only be read on Kobo or the device which supports Adobe Digital Editions. In this case, if you want to transfer the eBooks from Kobo to Nook, you need to install Adobe Digital Editions on your computer. Alternatively, you can try using eBook Converter to convert eBooks from Kobo to normal format and then transfer them to Nook. Below we will show you how to transfer Kobo books to Nook with these two solutions.
How to Buy and Read Kindle Books on iPhone or iPad
Download Best 7 New eBooks on Nook in 2020
---
eBook Converter Pro.
The most powerful eBook converting tool, specially designed for users to remove DRM from Kindle, Adobe, Kobo, Nook eBooks and convert them to various formats, including EPUB, MOBI, PDF, AZW3, TXT and KFX effortlessly.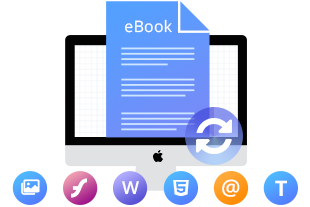 ---
How to Read Nook eBook on Kobo eReader
How to Converter Kobo Books to EPUB Format
I. Transfer Kobo Books to Nook with Adobe Digital Editions
Step 1. Install Adobe Digital Editions on your computer.
Step 2. Create a free Adobe ID if you don't have one before, and then authorize your computer.
Step 3. Download your books from Kobo Store. Visit the Kobo Store and go to My Library, click the "Adobe DRM epub" link. You will be prompted to download or open an .acsm file which is the license for the book you purchase, click "Open", and Adobe Digital Editions will open the file, then download the book and add it to the ADE library.
Step 4. Connect your Nook to your computer, and let Adobe Digital Editions authorize your Nook.
Step 5. Drag the books from the ADE library to Nook device. After the process completed, reject the Nook device from your computer.
You get the original eBooks from Kobo via Adobe Digital Editions, but the transferred eBooks are still protected by DRM and cannot be copied to other devices without Adobe Digital Editions. If you want to transfer eBooks without limits, you have to remove the limitation from Kobo to get free eBooks that can be transferred to other devices. To get unrestricted Kobo books, you need a professional eBook converter. Here we would like to introduce to you a powerful program – PDFMate eBook Converter.
II. Transfer Kobo Books to Nook with PDFMate eBook Converter
PDFMate eBook Converter is a professional tool to convert eBooks from Kindle, Kobo, Nook, Adobe, and other sites to EPUB, MOBI, PDF, TXT, AZW3, and KFX formats. What's more, the program enables you to edit the metadata of eBooks, like the title, author, publisher, etc. With the help of PDFMate eBook Converter, you can convert all your Kobo books to normal EPUB format and transfer them to any devices directly without restrictions. Now we will show you how to use it.
Step 1. Add Kobo Books to PDFMate eBook Converter
Click the "Add" button on the upper left, there will be a pop-up window to allow you to browse the eBooks on your computer. Find the eBooks you need and add them to PDFMate eBook Converter.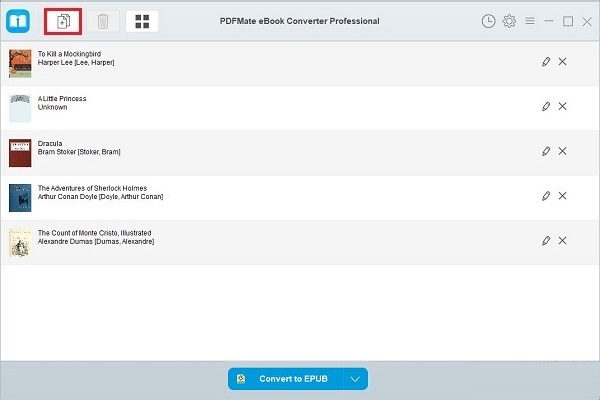 Step 2. Choose Output format and other Settings
Click the "V" icon to choose the output format. Here we select "Convert to EPUB". You can also set the output path by clicking the "Settings" button on the upper right. If you want to change the meta information, click the "Pen" icon to edit the metadata for each eBook.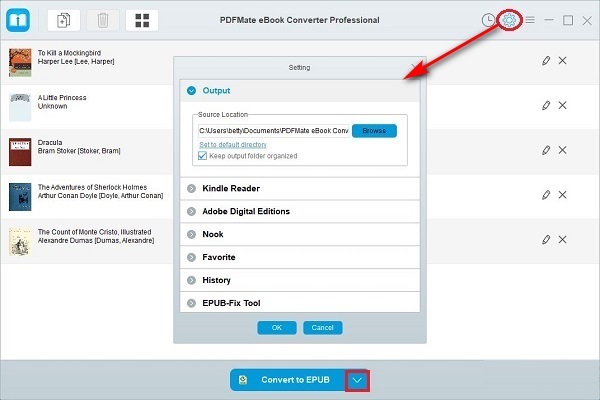 Step 3. Converter Kobo Books to Computer
When all the settings have done, click the "Convert to EPUB" button to start converting the eBooks.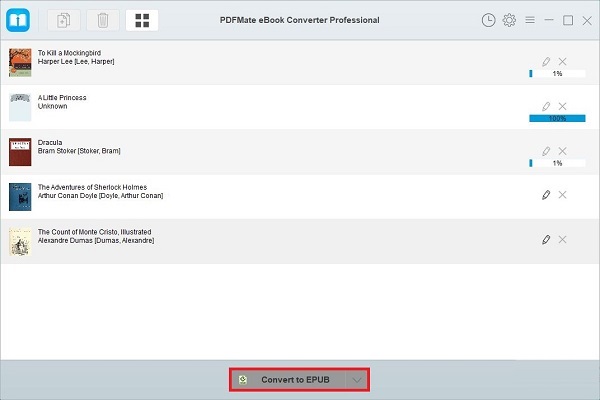 Step 4. Transfer the Converted Books to Nook
Connect your Nook to your computer and open the Nook library on the computer, drag the converted books into the library. Now you can read them freely.
---
Conclusion
The two solutions mentioned above are proved that Kobo eBooks can be transferred to Nook. Compared with the first method, PDFMate eBook Converter obviously has better performance in converting eBooks, which will meet your needs for conversions of different formats.
Note: The free trial version of PDFMate eBook Converter enables users to convert one book at a time. You can unlock the limitation by purchasing the full version. Of course, it is suggested to download the trial version first to test whether it meets your needs for converting.
For more information about eBook Converter Professional, please visit PDFMate eBook Converter Professional.
---
Recommended Products