Best eBook Readers Review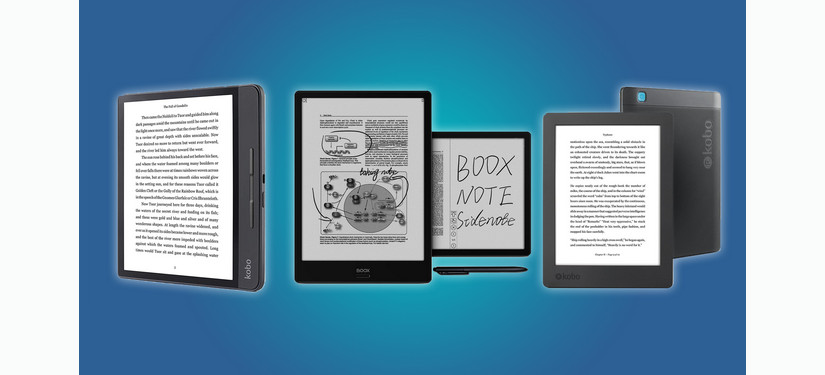 PDF Converter
•
eBook Readers
Nowadays, an eBook device has become a great method to help people carry around books, for business or pleasure, school or vacation, etc. Although some eBook Readers cost hundreds of dollars, they are always very cost-effective because eBooks are generally cheaper than their paper versions. They're also good for the environment because they don't use paper or ink. Perhaps best of all, you can conveniently begin reading your eBooks immediately after purchase online, rather than having to wait a week for the physical books to be shipped to you in the mail.
When choosing a proper eBook Reader, we usually consider four aspects: design, content, memory/battery life, and additional features. Based on these features, here comes a brief review on 6 of the best eBook Readers, which are, definitely, the top eBook devices to help you carry countless books with you wherever you go, and designed both practically and exquisitely to make your reading experience as enjoyable as possible.
---
1. Amazon Kindle
Among all eBook devices, the Amazon Kindle could easily be considered the cream of the crop. The most outstanding feature is that the Amazon Kindle has a sharp, high resolution screen that reads and looks like paper and significantly cuts down on eye strain. The reader is wireless which means you can download your purchased eBook in less than a minute. Additionally you can download newspapers like the New York Times, the Wall Street Journal, Washington Post and magazines like Time, Atlantic Monthly and more.
2. Apple iPad
Apple iPad is a tablet which can do a great deal more than most of other eBook Readers. It isn't strictly an eBook Reader, but it certainly can be, with the help of Apple's iBooks and the ability to sideload ebooks through alternative ebook stores that can be sideloaded on the iPad, and loaded up with books and documents that can be purchased from other sources. The iPad was designed to be much more than an eBook Reader, but it serves that purpose just fine. Apple iPad allows for a lot of different formats for eBooks like iBooks, Google Books, Barnes and Noble Nook Books and even Kindle books. It reads EPUB as native. But if you need PDF files you can use them but only after they are converted (Convert PDF for iPad). There are free PDF converters to help accomplish this task.
3. Sony Digital Book Reader
Sony Reader holds hundreds of eBooks and can hold more with removable memory cards. Thousands of eBook titles are available for this popular eBook device including best sellers, classics and new releases. It supports the eBook formats of PDF, RTF, TXT, Microsoft Word and BBeB, etc. A paper-like screen means it is easy on the eyes and the battery lasts for up to 7,500 continuous page turns which means it could easily sustain your hunger for reading on a two-month long vacation.
4. Barnes and Noble NOOK
The Barnes and Noble NOOK eBook Reader has some features that rock like the attribute of color. But it also has some concerns like the affects of producing color. Barnes and Noble has made an impressive showing with the Nook and Nook Color since the two were released. The original Nook earns top marks for its 6-inch E-ink display and slim profile. The Nook Color, on the other hand, runs a modified version of Android, has a 7-inch brilliant touch-screen, and is one of the most popular eReaders in its price range.
5. Kobo
Simplicity is, to some extent, what matters most and with the Kobo eReader. Acturally, being easy to use and simple is exactly what the user wants and receives. Kobo allows the reader to do what they enjoy most: read easily and conveniently. It is designed to make the reader get lost in a book and avoid the distractions other eBook readers make from their additional features. The Kobo eReader Touch and the Kobo Wireless eReader both support EPUB and PDF documents, allow you to side-load from other eBook stores and sources, with 6-inch e-ink displays and long battery life. They both come in Wi-Fi models, no 3G available.
6. ECTACO jetBook eBook Reader
It is said that the ECTACO jetBook is the first eBook reader that really put the device on the map for most people. With many different features that make e-Reading a fairly painless experience, the ECTACO Jetbook could be a good addition to your home library. ECTACO jetBook eBook Reader allows to store thousands of books either in TXT or PDF format. It is also an MP3 player and can display your favorite photos. However its primary function is as an eBook Reader. With ECTACO jetBook eBook Reader, you can search for text within eBooks and use bookmarks to create cross references which makes it a great choice for those who need to use multiple dictionaries and reference books in their work. It's also great for those who are bilingual. Comes preloaded with bidirectional English-Russian, English-Polish and English-only dictionaries that will translate any word. Supports content in English, Spanish, Russian, etc.
Reviews on Best EPUB Reader Apps for Andriod
How to Read PDF on Sony Reader as EPUB eBooks?
How to Read PDF on Amazon Kindle?
---
Extra Recommendation
If you are searching for a way to convert PDF to EPUB or any other format, PDFMate PDF Converter Professional, must be your first choice. Highlights:
Convert PDF to Word, Text, EPUB, Image, HTML, SWF;
Merge PDF files with high speed and precision;
Set password and permission for opening, copying or editing PDF files;
Personalize output path with customization settings;
Provide free technical support and excellent customer service.
---
Recommended Products