I have the free edition of adobe but I'd like to know what I can download so that I can edit pdf documents that I have scanned or receive. Does anyone know of any good and reliable packages that work with adobe?
I need a software (freewares are preferred) that enable us to edit PDF files directly, just like editing a Microsoft Word document. What software is best used for that purpose? Please help.
How to convert a PDF slideshow back into PPT? My professor put his slideshow of notes as a PDF and now I want them converted back into a PPT document. Any help?
PDF files are also known as Portable Document Format files and were originally created by Adobe. In many cases PDFs contain material that you cannot find anywhere else. Many instruction booklets are saved as PDFs, you can use some PDF editor software to edit it or convert PDF to editable word or text for further use. Here are a few methods that will help you to edit PDF free.


1. PDFill PDF tools - Comprehensive Free PDF Editor and Solution
PDFill PDF Tools are FREE PDF functions to merge, split, reorder, delete, encrypt, decrypt, rotate, crop and reformat PDF pages,  to add information, header, footer and watermark, to convert images to PDF, PDF to images or PostScript to PDF, to delete, flatten and list form fields, to scan to pdf, to create transparent image, and more.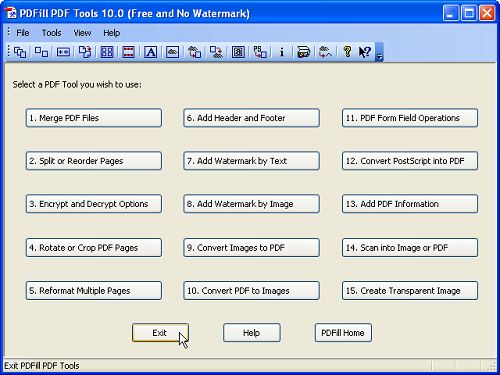 Some of the useful PDFfill PDF tools are:
* Merge or split - Merge two PDF files into one or split the files into more than one file for various uses.
* Security options - Use encryption or decryption keys for your PDF documents. You can apply Master Password or User Password as you may require for attaching authority and imposing restriction on your work PDF doc. Protect PDF files with passwords and prevent PDF files from being printed, copy, changed, filled, extracted, signed, assembled or merged.
* Rotate or Crop - You can rotate images in the PDF files or entire file by any angles you make readability better. Crop a page to modify its layout of Print or View by specifying its margins.
* Add watermark - you can add watermark images and text to the PDF file with this PDF editor.
* Convert - you can also convert any file to PDF file or any image into PDF file. For conversion, you need not use any other external application.
2. PDFedit - Professional PDF Editor Freeware
PDFedit is the open source project. By saying open source, the application is free to download. The program helps in manipulating the PDF files and docs. The program contains set of command tools that lets you edit the PDF contents. Complete editing of PDF documents is possible with PDFedit. You can change raw PDF objects (for advanced users) or use many GUI functions. Functionality can easily extended by using a scripting language (ECMAScript).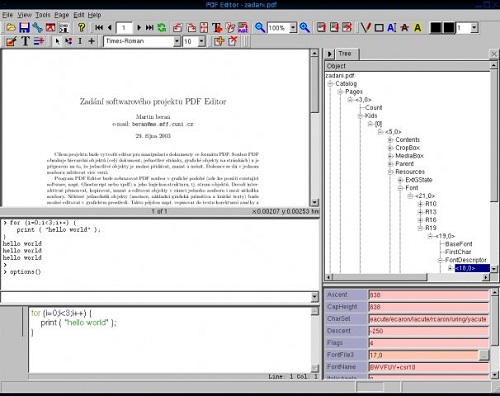 The scripts library of the application is downloadable from the online library and they shall be automatically loaded in your application as soon as you restart your editor. PDFedit GUI based on the Qt 3 toolkit and scripting engine (QSA), so every operation is scriptable. Part of the program is also command line interface for PDF manipulation. Tools also include example usage of the library, which proves to be useful and handy in case you stuck anywhere. Read more about PDFEdit, or download free here.
3. PDF Hammer - Online PDF Editor
PDF Hammer is free online PDF editing tool that requires you to upload your PDF file and then you can easily convert, arrange, delete, or remove PDF pages for editing purpose. Interestingly, the application need not require installation; the entire edit functions are performed in your web browser. All the functions of the editing are easy to use and in built in your browser (automatically).
All the functionality of the application is useful and hassle free. This makes PDF hammer very useful even if you are amateur and go for command line tools and interface. The GUI based this web application is automatic and all you require is upload and select. Moreover, obtain high quality output that too very quickly.
Using the application is definitely very easy. Since you need not install any application on your desktop, it does not consume disk space. Just upload your PDF file on this web application and do all edit work easily and without wasting your valuable time. If you have, more than one file to edit that requires same edit functions, than you can upload all the files for once and perform respective operations.
Related Articles:
Best PDF to Word Doc Converters
Best Free PDF Unlocker Tools to Unlock / Decrypt PDFs