The easiest and best solution for the above questions is to get a PDF to Word Converter. There are dozens of professional PDF to Word Convert Software online on the market, for either direct converting PDF to Word online, or downloading desktop PDF convert programs. Here is a review on best 5 of them: two of them are online services, the left are desktop prorgrams. (Would like to transfer from word to PDF? Find the way to free convert word to PDF on PC)



1. PDF to Word Converter - Free Online Service
PDFtoWordConverter.net has an excellent free online PDF to Doc converter. It's extremely easy to use, and you can finish the PDF to Word conversion within two simple steps: Choose File -> Convert and Download the converted Word document. The only disadvantage of PDFtoWordconverter is that it only supports to convert one PDF file at a time. But it's the easiest and most popular online PDF to Doc converter anyway. If you come across to convert PDF to Doc occasionally and don't need to convert too many PDF files at a time, you can try this way.

2. ZamZar - Free Online Service
ZamZar.com is another free online PDF to Doc converter. It helps to convert PDF files within 4 clicks: Select files or URL to convert -> Choose the format to convert to -> Enter your email address to receive converted files -> Convert. Actually, it will be more accurate to call ZamZar a PDF converter, as it can not only convert PDF to Doc, but also convert PDF to other formats like PDF to xlsx, PDF to PPT, etc. However, the same as PDFtoWordConverter, ZamZar also convert only one PDF file at a time and takes a long time to wait for the converted Word file, as ZamZar will send the target file to your email you have entered.
3. PDFMate PDF Converter Professional - Desktop Program
PDFMate PDF Converter Professional is a powerful PDF to word converter that helps you convert PDF files to Microsoft Office Word 2007 documents efficiently. One can use this program to do any PDF conversion easily and successfully for its intuitive interface and clear operation guide. It enables batch conversion which saves your time on converting plently of PDF files to word format or other formats like text, EPUB, HTML, image and SWF.

4. NitroPDF Pro - Desktop Program
NitroPDF Pro is an affordable, fully-featured PDF creation and editing product. It gives you full control over PDF documents, including commenting, form-filling and authoring, digital signatures, text editing, one-click creation from Microsoft Office, and more. It costs $99.00, and supports free trial.
5. PDFZilla - Desktop Program
PDFZilla is a desktop application that quickly and accurately convert PDF files into editable MS Word Doc files, Rich Text Documents, Plain Text Files, Images, HTML Files, and Shockwave Flash SWF Files. PDFZilla supports most of popular formats: DOC, RTF, TXT, BMP, JPG, GIF, PNG, TIF, HTML, SWF formats. PDFZilla also supports batch conversion mode and Page Selection. This powerful PDF-to-Word converter sells for $29.95.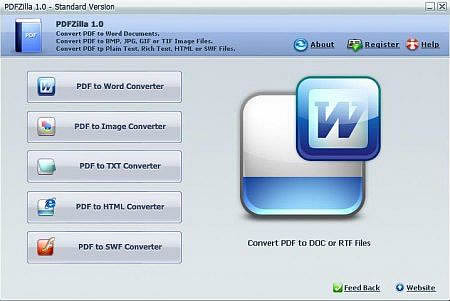 Conclusion
Acturally there are many other PDF to Word conversion solutions, such as free online PDF service PDFOnline, PDFMate PDF Converter Professional, etc. Each service or desktop program helps to easily and efficiently convert PDF to Word Doc files, or other popular file formats for editing or further usages. The best depends on your own needs. If you need to free convert PDF not so frequently, you can just choose free online service, because converting one file at a time won't matter. If you want a powerful and professional PDF to Word conversion tool, then you may need to consider some paid one, which are always with more functions to meet your needs such as batch conversion, detail selections, etc.
You may be also interested in the best iTunes DRM media converter.