How to Read PDF Files in iBooks on iPad
"I have a large number of PDF eBooks, how can I read them with iBooks on iPad?"
Reading eBooks on iPad must be a pleasure. However, sometimes we may have eBooks in PDF format, but iBooks does not support PDF format. What can we do? No worries. The problem can be easily solved by converting the PDF files to iBooks-supported EPUB format. But here comes the question: How to convert PDF to EPUB files? This article is going to show you a step-by-step tutorial.

PDFMate PDF Converter Free is a freeware that supports converting PDF files to EPUB, DOC, IMAGE, TXT, merging PDF files as well as extracting pages from PDF files, providing users with better reading experience. The operation is very simple, adding up to a few operations. Before we get started, please download and install the program on your computer.

Step 1. Add PDF Files to the Program
Click button "Add PDF" on the upper left. There will be a pop-up window allowing you to browse your local PDF files. Choose the PDF files that you want them to be converted to EPUB format and read in iBooks. Then click "Open" to upload them to PDFMate PDF Converter Free.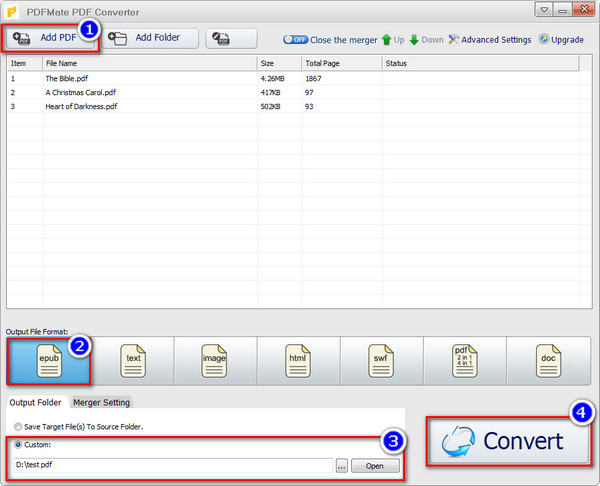 Step 2. Choose Output Format
Click on the output format that you want the PDF files to be saved as (EPUB, TEXT, IMAGE, HTML, SWF, PDF, WORD). Here we choose, of course, the "EPUB" as the output format.
Step 3. Customize Output Path
On the bottom, you can customize the output path for the target converted EPUB files. Click button "Output Folder" > "Custom" > icon "…" to choose the folder that you want them to be saved in.
Step 4. Convert PDF to EPUB Format
Click button "Convert" on the right and your PDF eBooks will soon be converted to iBooks-supported EPUB files. Now you can enjoy your PDF eBooks in iBooks on your iPad as well.
Related Articles