Word is good at editing contents, while PDF is the best format for saving the content. As word has different versions that may have influence on the layout and formatting of the document (formatting errors from cropping up due to word-processor incompatibilities), so it is necessary to convert from word to PDF to keep the original document layout and formatting. In this circumstance, sharing a file in PDF format allows people to view the document regardless of what word processor they are using. Say, you have important documents needs to be submitted like resumes, commercial invoices, you 'd better convert word doc to PDF file format. For converting word documents to PDF, here we introduce two useful methods for helping you convert word to PDF on PC freely.


Method One: Install 2007 Microsoft Office Add-in: Microsoft Save as PDF or XPS
Although Word does not provide a direct way to save documents in PDF format, many third-party software products provide the capability to save Word documents as PDF files. A frequently used add-in is Microsoft Save as PDF or XPS. Download the SaveAsPDFandXPS.exe file to your computer and double-click the program file on your hard disk to start the Setup program, then follow the instructions on the screen to complete the installation. After you finish installation, you can open the document you want to publish, go to Save As > PDF or XPS from the Office or File menu and click publish. Then you have the word document converted to PDF file successfully.
Method Two: Use Online Word to PDF Converter
It would be the most convenient way to convert word to PDF on PC, because you don't need to install any program or download anything to deal with it. All you need to do is using the "Browse" button to locate the Word file on your computer, select it and click the "Convert Your File" button. Done!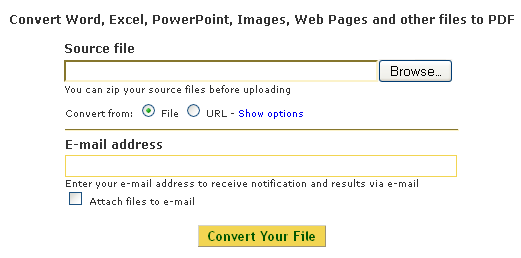 Note: After clicking Convert button, normally you should spend some time to wait for the conversion to process. Many online word to PDF converter has limitation to the word size that you submit.
Tips:
Would like to make any changes to the converted PDF? Please go back to word to update and re-save as a PDF.
When using the online converter, be aware that the sites often have glitches.
Always back your original files before converting them.
Difference between Word and PDF
Both Word documents and Portable Document Format are the two most widely used document tools. Word application is a word processing program released in 1983 by Microsoft as 'Multi-Tool Word'. A Word is an editable format that allows the users to edit and customize information as per the requirement. The PDF (Portable Document Format) is commonly used to share Word documents among readers who might not have Word installed on their computers. The PDF format preserves a document's layout, but it gives no entrance to edit the content.

Do you know how to make the scanned JPG image file into PDF format?
How to make the HTML Web page to PDF for sharing, reviewing and printing?
How to open / view PDF file on computer?
How to extract tables from PDF files