How to Read PDF in Aldiko eBook Reader?
Let's start with a guess on how you read books. In general, we go to the library or visit book store to read books. Sometimes, we have to carry around heavy stack of books which makes us quite tired. Are there any way to read books easier? The answer is for sure. Apart from the common books, we can also choose eBook to read whenever and wherever. If only you have smart phone or tablet, you can read thousands of eBooks with Aldiko eBook Reader for free. Aldiko is your whole library with you all the time.

Even without computer, cable or subscription, tens of thousands eBooks including in PDF, EPUB and etc are available for free in Aldiko. What is PDF Aldiko? Aldiko is a powerful e-book reader app for the Android operating system and one of the best Android eBook Readers. It is popular used by people who have smart phones or tablets. Here is a data of PDF Aldiko app: ★Pre-installed in 20+ different Smartphones and Tablets; ★Used by 5+ million users from over 200 countries.
Aldiko eBook Reader Supported formats: Aldiko supports the most popular eBook formats EPUB and PDF, as well as the Adobe eBook DRM technology. You can bring your own books and documents to Aldiko. That is, you are free to import EPUB or PDF to Aldiko to read them on your Android devices.
Some Features of Reading EPUB and PDF in Aldiko: 1. Personalize the reading experience by adjusting font, font size, font type, background colors, margin, alignment and line spacing. 2. Choose the reading mode: night mode or day mode reading. 3. Create your own bookmarks anywhere in the book. It is easy and fast to jump to any part of the book according to table of content. 4. Be able to search any word in the entire book or look it up in dictonary.
Read PDF in Aldiko eBook Reader: It is a good news for people who would like to read their own PDF files in Aldiko, after all, the eBook reading experience with Aldiko is quite well. However, the common PDF files are not readable by PDF Aldiko very well especially in small screen smart phones. In this circumstance, it is better to convert PDF to EPUB format for enjoying reading PDF in Aldiko eBook Reader. The thing can be easily done by Aldiko PDF Converter - PDFMate Free PDF Converter. This Aldiko PDF Converter helps to convert PDF to EPUB clearly with fast speed which is exactly for PDF reading in Aldiko.
Step by Step Guide on Importing Your Own PDF Files to Aldiko eBook Reader
Preparation: A computer and your smart Phone with Aldiko eBook Reader App installed
Download PDFMate Free PDF Converter (Aldiko PDF Converter), install and run on your computer. Aldiko PDF Converter supports converting PDF documents to EPUB format for PDF reading in Aldiko eBook Reader. It is a free PDF Converter with concise interface and outstanding conversion quality.
PDFMate Aldiko PDF Converter Working Process Overview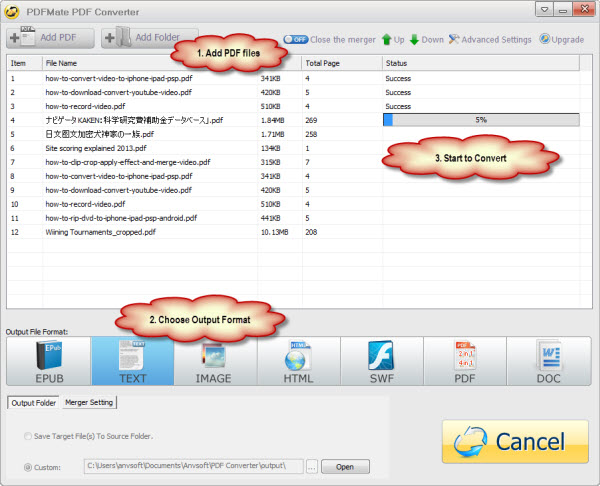 Import PDF to Aldiko eBook Reader
Find the converted file by clicking "Open" button on the bottom of PDFMate Aldiko PDF Converter. Connect your smart phone to the computer, then import the converted EPUB file to your smart phone SD card. Open Aldiko eBook Reader app and add the file to Aldiko catalog, after that, you can read your original PDF in Aldiko with the most popular eBook format EPUB.