PDF Merger Pro. VS PDFMate PDF Merger
If you input PDF Merger in your favourite search engine and click search, you will find tons of paid and free software are in the list. All of them can help you merge and split PDF. Are they all the same? We choose one of the most popular PDF Merger and splitter in the market - PDF Merger Pro. and make a comparsion between PDF Merger Pro. and PDFMate Free PDF Merger.
1. PDF Merger Pro. (Price: $ 10.97)
PDF Merger Pro. can be used to join, split and manage PDF files without Adobe Acrobat. With PDF Merger Pro., you can join multiple PDF files in seconds, split the added PDF files into single PDF files. The program also provides the option to add open password, set permission for printing and repair corrupted files.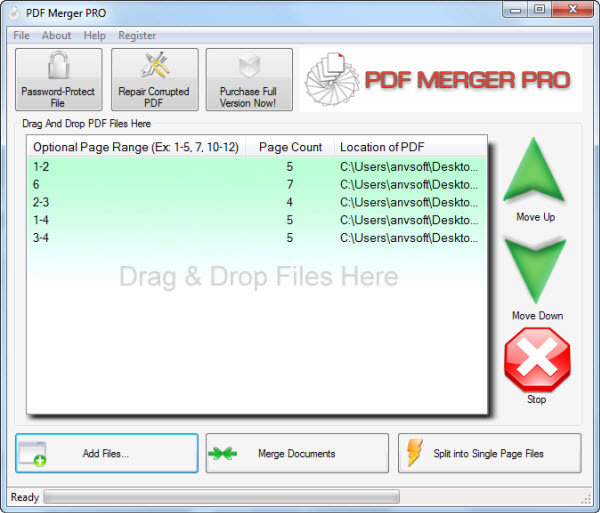 Pros: 1.Works exactly as expected.
2. Amazingly Fast for large files over 1000 pages.
Cons: 1. The program does not have a integrated Decrypt feature.
2. Even though it provides the option to secure PDF files, we sometimes get error message from the program and cannot add the password successfully.
2. PDFMate PDF Merger (Free)
PDFMate PDF Merger is a free PDF tool that can work as as a PDF Joiner, PDF combiner, PDF breaker, PDF encrypter, PDF image to PDF converter. You can add PDF and image files to the program and merge the files you add. The program also provides additional options to change the page size, page layout, page orientation and options to protect the new created PDF file.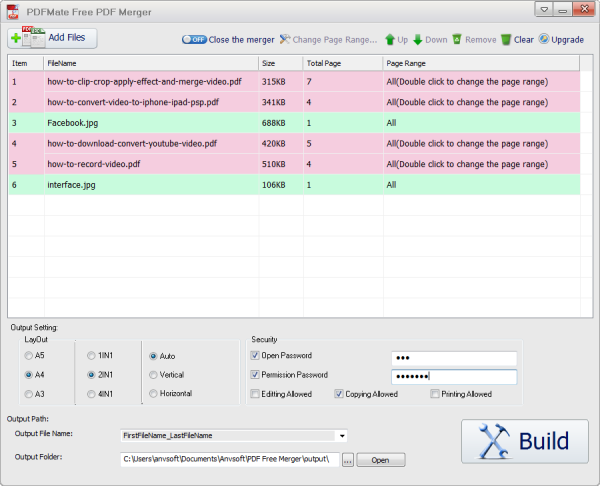 Pros: 1. Works as described. Did not imprint a water mark or have any restrictions like other 'free' software.
2. Easy to use and very fast. It merged 100s of images into a single PDF in seconds.
3. Support layout settings such as paper size, page arrangement.
Cons: It cannot compress the PDFs when combining.
3. PDF Merger Pro. VS PDFMate Free PDF Merger
| | | |
| --- | --- | --- |
| Feature | PDF Merger Pro. | PDFMate PDF Merger |
| Convert Images to PDFs | | |
| Change Page Size | | |
| Change Page Layout | | |
| Change Page Orientation | | |
| Set Copy/Edit permissions to PDFs | | |
| Merge Images and PDFs | | |
| Merge PDFs | | |
| Split PDFs | | |
| Add open password to PDFs | | |
| Set Print Permission to PDFs | | |
| Change the order of PDFs | | |
| Specify Page Range | | |
| Batch Converstion | | |
| Repair Corrupted PDFs | | |
| Price | $ 10.97 | |