How to Read PDF on Acer Iconia W3?
Nowadays most people have grown used to the small-size tablets equipped with Android or IOS operating system. Recently, a lot of Windows 8 tablets are released to the market. But have you ever imagined a small-size one? You may think it is a piece of cake for the developer to design such a tablet. However, the first 8-inch Windows 8 tablet, the Acer Iconia W3, is released in June, 2013.
Feature of Acer Iconia W3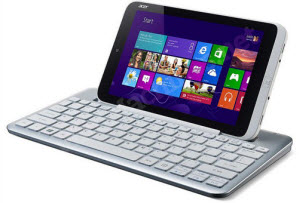 Saying the Iconia W3 is small doesn't accurately describe it. Measuring 0.45 by 8.6 by 5.3 inches (HWD), it's roughly the same size as the Android-only Samsung Galaxy Note 8.0, and significantly smaller than the 11-inch HP Envy X2 or the 10-inch Dell XPS 10. It's also light, weighing only 1.1 pound, thanks in no small part to the smaller size, but also due to lightweight plastic construction. Designed for one-handed use, the tablet features a physical Windows button at bottom—when held in portrait mode. In landscape orientation, the button is found on the right-hand side of the display.
The below chart shows the basic information of the little tablet: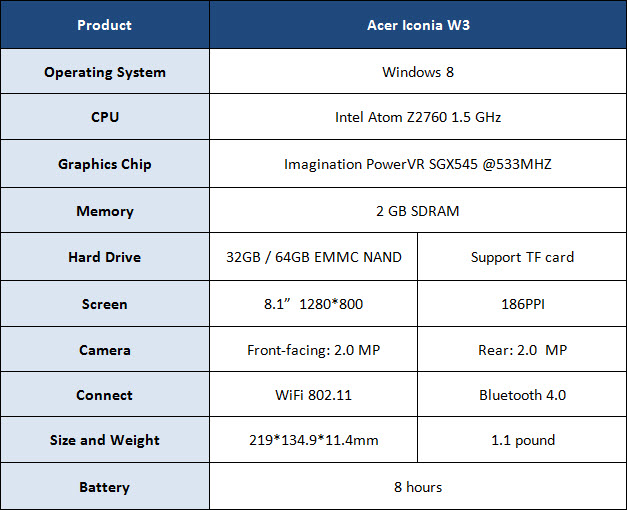 The keyboard dock is apparently a work in progress. Aside from the onscreen keyboard, Acer Iconia W3 is available with an accessory keyboard for typing. Even though the combination of tablet and keyboard looks clunky and mismatched, it's still something we hope Acer's going to work on.
The portable tablet Acer Iconia W3 featuring desktop PC capability makes it a dynamite choice for outdoor workers and frequent travelers. They no longer need to carry the heavy laptop or enter text by clicking keys on a virtual keyboard.
Best PDF Reader for Acer Iconia W3
Becoming the first 8-inch (8.1-inch to be precise) tablet to run Windows 8 and not Windows RT, which is the most touch-friendly version of the OS, Acer Iconia W3 takes tablets into consideration. This means you can run anything from Adobe's Photoshop to Apple's iTunes on the tablet, in addition to Microsoft's Modern UI apps that can be downloaded from the Store.
The 8-inch form factor is really good when it comes to using a tablet for consuming content - reading, watching videos and movies or playing games. We will recommend some PDF reader program according to the unique feature of this first 8-inch Windows 8 tablet.
1. Adobe Reader XI
The first one recommended is the leader in PDF lines. With Adobe Reader XI, you can do even more than open and view PDF files. Now, it's easy to add annotations to your document using a complete set of commenting tools.
2. Foxit PDF Reader
Foxit Reader is a small, lightning fast, and feature rich PDF viewer which allows you to open, view, sign, and print any PDF file. It comes equipped with comprehensive protection against security vulnerabilities, keeping your system and company safe.
3. Sumatra PDF
Sumatra PDF stands out as the most lightweight PDF reader available. It's very lightweight, has a simple interface. It's packed with keyboard shortcuts, making it even more ideal for quickly reading PDFs. Sumatra also supports other types of files, including eBooks in ePub and Mobi format and comic books in CBZ and CBR formats.
4. Nitro PDF Reader
Nitro stands out among free PDF readers with some unique features, as well as a Microsoft's ribbon interface. It's got some features you won't find elsewhere – for example, its QuickSign feature allows you to capture a digital image of your signature and apply it to PDF documents. Nitro PDF can also convert files from Microsoft Word and other formats to PDF, convert PDF files to text, and extract images from PDF files.
There are horrible reviews on the poor display of Acer Iconia W3 indeed. The screen affects the experience of using the tablet adversely and colours look washed out. It may be not a good experience to view PDF on the little tablet. If you would like to try eReader devices, Kindle may be a better choice.